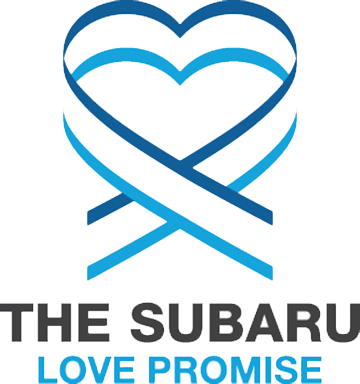 What is the Subaru Love Promise?
Subaru and our retailers believe in making the world a better place and the Subaru Love Promise is our vision of respecting all people. This is our commitment to show love and respect to our customers and to work to make a positive impact in the world.
How is Garcia Subaru North dedicated locally to the Love Promise?
Our Love Promise can be seen in various partnerships with local charities and non-profits. We're grateful for the opportunity, not only to be a part of our community, but to serve it as well.
Leukemia and Lymphoma Society
Love Promise Stories from Garcia Subaru North
Subaru and Garcia Subaru North believe in making a positive impact on the communities in which we live and work. We uphold that belief through our Love Promise Community Commitment. Every month, we select inspiring stories from customers and partners from around our area who strive to support our collective commitment and feature them here
Subaru Saves Pets Like Walker - Sara N
Subaru Loves Pets and Garcia Subaru's generous donations to Animal Humane New Mexico are saving the lives of countless hurting and homeless pets. Pets like Walker. Walker was originally found as a stray in the rural town of Roswell, New Mexico. The 1-year-old ball of energy was taken to the local shelter where for three months he awaited a forever family. Because of the support of our friends at Subaru, the Coonhound mix was transferred to Animal Humane through our Project Fetch program — giving him a second chance at finding a happy home. While in our care, Walker was treated for Happy Tail, a wounded tail due to repeatedly hitting against hard objects, and neutered at our Donor-subsidized Veterinary Clinic. He also spent time in play groups with other shelter dogs for much needed exercise and socialization. After ten weeks at Animal Humane, Walker's long wait was finally over. He met his perfect match in a family seeking a dog to take along on their many outdoor adventures.
---
Marigold: turning tragedy into hope - Sara N
For more than a decade Subaru has partnered with Animal Humane to support and improve the lives of New Mexico's cats and dogs through sheltering, adoptions, humane education and veterinary services. Pets like Marigold.Transferred to Animal Humane through our Project Fetch program, Marigold was suffering. She'd been attacked by another animal, resulting in serious injuries to her abdomen & mouth. This sweet brown tabby cat was in shock and her wounds were infected. You made it possible for our Clinic Team to treat the 7-year-old feline. You gave her hope. For three weeks, the brave girl fought to regain her strength. You were with her every step of the way. With medication to ease her pain, surgery to remove a broken tooth, consistent veterinary checks to ensure she healed & extra love to keep her spirits high, Marigold quickly recovered. Before long, the happy feline went home with her new forever family. We couldn't do it without you. Your unending generosity ensures that New Mexico's cats & dogs find hope, healing & homes. On behalf of pets like Marigold, thank you!
---
Holiday Party for the Community - Sydney G
"Twas the week before Christmas and all-around Garcia Subaru North, magic was spreading for the Make-A-Wish New Mexico children. The showroom was covered with gifts to share, knowing that a full house would soon be there. The children came running with their families and friends, to create memories that would never end. And basketball teams and "robocop" came out to assist, they passed out treats,crafts and gifts When in through the doors Santa Claus appeared and each and every child cheered It was a magical evening full of delight, sending holiday wishes to all, and to all a good night. Garcia Subaru North went above and beyond to create a magical evening for the Make-A-Wish New Mexico children and their families. This community wide event is open for all who want to share in the magic of Christmas. Santa Claus came down from the North Pole for a visit and even read 'Twas the Night Before Christmas to an enraptured audience of children. The entire showroom was covered in toys, so that each child that walked through the door go to leave with a gift of their choosing. Hot cocoa, snowman shaped cupcakes, letters to Santa Claus and crafts were just a few of the things that enchanted the children throughout the evening. Nate and the rest of the Garcia Subaru North team make sure that every single detail was covered so that every child cannot help but smile, leaving their parents smiling as well. Aubry Padilla and her team at Garcia Subaru North continue to "Share the Love" with our entire community. The hosting of these parties allows our community to come together and experience the magic of a wish. They have done more than open up their doors, they have opened up their hearts to the Make-A-Wish New Mexico family.
---
Survivor to volunteer - Kristja F
Mary Josephson was diagnosed with non-Hodgkin's follicular blood cancer fourteen years ago and has been in remission for five years. Shortly after becoming cancer free, she relocated to New Mexico. Having no friends locally, she attended the Leukemia and Lymphoma Society's Light the Night, hoping to connect with other local cancer survivors. Mary met local volunteers who quickly connected her with others in the community. Mary moved from survivor, to new resident to an LLS volunteer. Mary, along with her partner volunteer, Bill Slatkin, work together connecting other blood cancer patients with LLS and the community of volunteers. Today, both Bill and Mary were working with the New Mexico Cancer Center's volunteer Mary Albaugh, offering blankets to cancer patients currently undergoing treatment. Mary Josephson, a long time Subaru owner, had been in touch with Subaru's national organization recently and also shared with them her appreciation for supporting local patients. Bill Slatkin wanted everyone to know how comforting the blankets made you feel and expressed his feelings in one of the attached photos.
---
Share the Love Partnership - Sydney G
On behalf of Make-A-Wish New Mexico, I am writing to share our sincerest appreciation for Aubry Padilla and her entire team at Garcia Subaru North. Over the past year, Aubry has become a valuable member of the Make-A-Wish family through her commitment and support of the Subaru Share the Love campaign. We are so grateful that Garcia Subaru North chose to partner with Make-A-Wish New Mexico as their 5th local charity for the campaign. Aubry and her team went above and beyond to make the Share the Love campaign a tremendous success and raised over $29,000 to fund life-changing wishes for children with critical illnesses in New Mexico. Our partnership with Garcia Subaru North is viewed as one of the most successful collaborations in the country for the Share the Love campaign and that is due to Aubry's leadership and the dedication of her team. Aubry and her team not only helped us raise funds to support our wish kids, but they also opened the dealership to our wish kids, their family and the community at large for engaging events. Over the past year, Garcia Subaru North has hosted a Halloween party, a Christmas party and a Spring Celebration for Make-A-Wish New Mexico. Theses events have helped our wish kids forget about their treatment for an evening and enjoy costumes, candy, games, time with Santa and even the Easter bunny made an appearance. We were fortunate to receive media coverage for several of these events. Aubry's passion and commitment to our vision of where there's a wish, there's a way has been phenomenal. We recently asked Aubry to join our Board of Directors and look forward to our continued collaboration with Garcia Automotive Group.Pleases accept our deep gratitude for your support and commitment to Make-A-Wish New Mexico. We are so honored to work with an organization that is so committed to investing in their community. Thank you for allowing us to be your 5th local charity, you are truly making a difference in the lives of so many children.
---
Christmas Wonderland at Garcia Subaru North - Marisa M
For 11 years, Subaru of America, Inc. has donated $118 million to charity through its annual Share the Love Event, creating smiles and transforming the lives of thousands of people. Of those funds, Make-A-Wish® has received more than $16.4 million to grant more than 1,800 wishes. On December 17th, 2018, Garcia Subaru North transformed into a Christmas Wonderland. Carolers sang traditional songs while Mr. and Mrs. Santa Claus gave hugs and wishes to all the children. Santa Claus read a Christmas story to the crowd of young hopeful children. The night included a Christmas Ornament decorating station, a letter writing station for delivery to Santa at the North Pole, Subaru Ascent's loaded with toys and goodies for all to enjoy, surprise children's dance crew performance, coffee truck to offer hot chocolate and an extra special announcement of a pledge to grant a child's WISH by Garcia Subaru North. The staff helped deliver the Christmas Spirit in this most unforgettable night. Thank you Garcia Subaru North!
---
Transforming Lives Through the Power Of a Wish - Sydney G
Uplifting, community orientated, dedicated. These are words that exemplify Garcia Subaru North and General Manager, Aubry Padilla as they partner with Make-A-Wish New Mexico to create life-changing wishes to children in New Mexico with a critical illness. Aubry has continually shown her commitment to serving our community and has whole heartedly supported the Make-A-Wish New Mexico mission. This year, Garcia Subaru North chose Make-A-Wish New Mexico as their fifth local charity for Share the Love. During the Share the Love Event, Subaru of America donates $250 for every new Subaru vehicle sold or leased, donating $118 million to charitable causes since the program's inception eleven years ago. Last year alone, Subaru donated more than $2.9 million to Make-A-Wish® Nationally. Locally, Aubry and her team kicked off the partnership with a Halloween Party at the dealership. They invited wish families, volunteers, their own families, and the community at large to take part in the fun! Aubry Padilla personally filled the Subaru's with candy for the kids to trick-or-treat, corn hole, and a dance team performed Michael Jackson's "Thriller"! We were fortunate to have news coverage from KRQE at the event, and Aubry joined Make-A-Wish New Mexico's Chief Development Officer, Sydney Graczyk, on KRQE to promote the partnership and the upcoming Holiday Event. Again, the dealership will open its doors to the Make-A-Wish community by hosting a holiday party that will include story time with Santa Claus, gifts, hot cocoa and sweet treats. In addition to all of this, Aubry and her team at Garcia Subaru North have committed to financially granting wishes, and in New Mexico, the average cost of a wish is $6,000. Aubry and her team are committed to transforming the communities in which we work and live. Garcia Automotive and Aubry Padilla are catalysts for change in our community, not just with their financial gifts, but their overall involvement. Since the beginning of the Share the Love Partnership in 2012, Subaru has given $40,245.29 locally, which equates to over 6 life-changing wishes to children in our community. A wish is a beacon of hope during one of life's darkest seasons. This hope is the most precious thing we can offer, and it is not possible without the community support that we receive from Garcia Subaru North and Aubry Padilla. Thank you, Garcia Subaru North, and all your team for creating change in Albuquerque and thank you for supporting your employee's efforts in making a difference.
---
Happy Vacation - Janice R
I had a problem with my 2016 Forester, so I took it to Rocky at Garcia North. My heater/air was acting up not working properly. He looked up my warranty and said this will be covered let me order the part. I was going to take in the car to get the part put in and, but I noticed a bulge in the tire. I called Rocky and he said don't worry we will check. I take my car in and I was in a hurry I had a meeting. Rocky checked me in right away and gave me a loaner car to get to my meeting on time. Later that morning Rocky called me and said the heater/air part was put in. He explained that the bulge was not a safety hazard but that my tire tread was low. I didn't understand about the tire tread so for the next 10 minutes explained to me about how they measure tire tread for the car. He said that the tread might be good for another couple of months then asked if I was taking my car out of town any time soon. I told him I had a mother-son trip planned that weekend. I had been planning this trip for several months and was so excited to be going out of town I could not miss this. He said he would like me to get new tires as it would be safer for me and my son. He would get them on my car ASAP and balanced for my trip. I like that he gave me options but ultimately was looking out for my safety. He did what he said and got my tires on my car right away and balanced. When I went to pick up my car he went through the entire car with me. Where all the parts were in my car (battery oil change, filters, etc.). He also said that he wanted me to come back to see him when the weather got cold to check the air pressure on the tires as the cold weather can affect them. He gave me his card told me to call him if there were any issues with the car to call him and he would get it taken care of. Therefore, I take my car to Garcia North they always take care of me. They tell me what is wrong with my car and give me options to fix it. I bought my car at Garcia North and I will only take it for maintenance at Garcia North. What I like most is that they worry about the safety of their customers. I knew that I was going out of town with a car that was safe and could handle any type of weather condition that arose. That piece of mind was there because of Rocky and the great customer service that Garcia North provides to us all.
---
Leukemia & Lymphoma Society Partnership - Krista F
Garcia Subaru is dedicated to serving our local community and General Manager, Aubry Padilla is an example of the organization's commitment to our community. Two years ago, Garcia Subaru retailers in Albuquerque partnered with the Leukemia and Lymphoma Society to provide blankets to local patients receiving treatment for blood cancers. Aubry Padilla personally presented the blankets to patients at Presbyterian Hospital and became committed to our mission to support blood cancer patients and their families. From that moment, we have had a long-standing relationship with Aubry that has resulted in tremendous donations raised solely by her efforts. She volunteered her time to help LLS raise money to fund cutting edge research for blood cancer therapies. She joined the Executive Challenge team for Light the Night, breaking the fundraising record by over $5,000, winning the New Mexico/El Paso's chapter's Executive Challenge. Within a few months, she was nominated to run for Man Woman of the Year for LLS. Man & Woman of the Year is philanthropic competition to support blood cancer research among a group of motivated and dedicated individuals in communities across the United States. Candidates form powerful fundraising teams and compete in honor of two local children who are blood cancer survivors. Not only was she crowned Woman of the Year, but again, she exceeded the fundraising record for New Mexico by raising $68,815.000. She is responsible for donating countless hours and dollars to the area of blood cancer research, which will undoubtedly help our overall cause. Aubry is committed to supporting the communities in which we work and live. Garcia Automotive and Aubry Padilla have shown that they are unlike many dealerships, in that they truly care and strive to make noticeable differences in their local community. We are thrilled that she recently agreed to join the Board of Trustees for the LLS New Mexico Chapter. Garcia Subaru and Aubry Padilla are truly committed to enhancing the communities where they live and work. Thank you Garcia Subaru for all that you do for Albuquerque and thank you for supporting your employee's efforts in making a difference. - Kristja Falvo - Executive Director of The Leukemia & Lymphoma Society, New Mexico/El Paso Chapter
---
Subaru Supports Local Blood Cancer Patients - Kristja F
July 7th was a very special day for the Leukemia and Lymphoma Society. Our organization in partnership with Subaru North had the opportunity to deliver 80 blankets to cancer patients at the New Mexico Cancer Center. Subaru North delivered 80 blankets for cancer patients, providing warmth and care for those going through chemotherapy. Cyndi Heller was a very special recipient of a blanket. Not only is Cyndi a blood cancer survivor, she now hosts a support group for others. In addition, she is a longtime Subaru owner. Cindy was excited to receive a blanket and also shared that during her treatment, her new she could rely on her Subaru to get her to her treatments safely and on time.
---
Subaru and NWF Love the Earth - Chelsea M
Our school garden is in the middle of a food desert (an urban center with no fresh produce available for miles). Many students don't know basics about gardening. I work with the students to teach them about wildlife, saving the bees, and providing food for their families. They love helping out during lunch, which is a big sacrifice for them because they are high schoolers and we all know how much teenagers love their free time. These girls are all current or former students who came to help spread cedar mulch purchased with money donated by Subaru. This mulch protects plants from pests and also keeps them moist when watering. We took a lot of pictures and wish we could share them all, but this shows a good view of our lovely garden.
---
Subaru Loves Pets -34th Doggie Dash and Dawdle - Jessica P
Thousands gathered to participate in Animal Humane New Mexico's 34th annual Doggie Dash and Dawdle despite rainy weather. This event is one of largest fundraisers the Animal Humane New Mexico puts together with over 2000 dogs and 4000 people in attendance. Garcia Subaru North has been a leading sponsor in the event for the last 7 years and was this year's "Leader of the Pack" presenting sponsor. Garcia Subaru North donated $20,000 to the event's goal of $300,000 with 100% percent of the net proceeds going to support homeless pets. Subaru also sponsored the free micro-chipping that was offered at the event. The Doggie Dash is one of many events that we work with Animal Humane on throughout the year and always promises a great time for everyone who attends. We love working with Animal Humane and helping out homeless pets here in the community and look forward to our continued support of a wonderful organization!
---
Garcia Subaru North Loves Monarch Butterflies - Ryan N
The beautiful Monarch Butterfly is a favorite for all butterfly lovers. Milkweed plants are the only natural habitat for Monarch larvae. There has been a decline in Milkweed plants that has caused the Monarch population to decline considerably. Garcia Subaru has partnered with the National Wildlife Federation as part of our Subaru Loves the Earth initiative during the month of April. Stop by the dealership in the month of April to get information on the National Wildlife Federation's Butterfly Heroes program and learn how you can start your own butterfly habitat. We will even provide a pack of seeds to start your own butterfly habitat and help save one of the most beautiful butterflies in existence.
---
$25,000 Raised for Homeless Pets - Ryan N
On April 16th, homeless dogs and cats at Animal Humane New Mexico received $25,000 in a generous contribution from longstanding supporter Garcia Subaru. This amount is the highest received by Animal Humane in its 3 years as a beneficiary of the Subaru "Share the Love" program and will make a significant impact for homeless pets in our care. "Thousands of dogs and cats enter our shelter each year," said Peggy Weigle, Executive Director. "Our partnership with Garcia Subaru began in 2008 with support for building the Robbie Jones Memorial Cat House. Their dedication to our mission continues and these funds will help us provide vital medical and behavioral services to pets in need and help us find even more pets loving homes." Two puppies, Nerf and Schools, looked on at the check presentation in Harbor Lights Park at Animal Humane's 615 Virginia St. SE campus. Because Animal Humane receives no federal, state or city funding, contributions like Garcia Subaru's are vital to supporting pets like Nerf and Schools. Both puppies arrived in our care from the Gallup-McKinley shelter through our Project Fetch program, and both received treatment for medical conditions to help them become healthy and ready for adoption. The $25,000 received today from Garcia Subaru can help many homeless pets like these on their way to loving new homes. Garcia Subaru is a longstanding supporter of Animal Humane New Mexico, contributing a wide range of support each year.
---
Garcia Subaru of Albuquerque is Proud to Support Animal Humane of New Mexico - Peggy w
Every year for the past five years, we have been fortunate enough to Join Animal Humane for our signature event and largest fundraiser, the 32nd annual Doggie Dash & Dawdle. Recognized as Albuquerque's must attend pet owner event, Doggie Dash attracts more than 4,500 attendees. We are extremely proud to be able to assist Animal Humane in raising funds that will make an impact on countless pet lives in our community!
---